Department for
Work &
Pensions
Our people
Here is Alfonso Greenbrook, a former Level 4 Apprentice in Cyber Security Monitoring. Alfonso now works in Security and Data Protection in DWP.
How did you start working in cyber security?
I joined the Government Security Level 4 apprenticeship in 2020 working as a Security Analyst within the Cyber Security Monitoring and Investigations team. Before joining, I was studying BTEC Computing in Sixth Form and was considering whether university or an apprenticeship would be the best route for me. Whilst most of my peers went down the university route, I decided that an apprenticeship would provide me with the best opportunities to kickstart my career in cyber.
Whilst I had gained theoretical knowledge of cyber throughout Sixth Form, I was slightly apprehensive about joining the profession as I felt I would lack the technical knowledge and understanding. However, these worries were quickly alleviated by the large network of technical colleagues within Security and Data Protection (S&DP) offering shadowing opportunities, providing mentoring and the chance to attend talks about the different security areas of the department. This included many former apprentices sharing their experiences; allowing me to get a deep insight into a range of security disciplines including threat intelligence, engineering, and risk.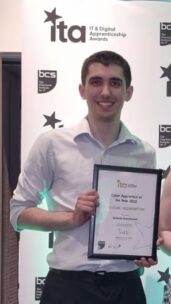 Awards and achievements
Alongside completing my apprenticeship, I was given the opportunity to complete additional learning and achieve certifications; this included courses from the British Computer Society (BCS). S&DP has a strong focus on professional development, and this has allowed me to develop my skills in areas such as the National Institute of Standards and Technology (NIST) Cyber Security Framework and Windows forensics. Working in an environment where development is encouraged has allowed me to excel in a short space of time.
At the end of my apprenticeship, I secured a double promotion where I now work as a senior security analyst. I chose to remain within S&DP due to the positive culture and opportunity to continue to build upon the work I had already started. The most rewarding part of my job is knowing that my work directly contributes to the security of the UK's critical national infrastructure.