HM Revenue
& Customs

Innovation in tax
Read our blog from Autumn, Senior User Researcher, who explains how innovation fits into the work we do here at HMRC.
How does innovation work in HMRC? 
HMRC is embracing new future technologies by focusing on user-centred design to improve user experience and system efficiency. To find out more about innovation and technology at HMRC, we caught up with Autumn, Senior User Researcher in the Innovation team, to talk us through how innovation fits into HMRC and the work the team has been undertaking.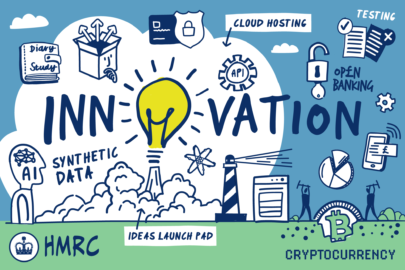 First, what does the HMRC innovation team do? 
Before I worked for HMRC, I always thought that the most trendy and cutting-edge technologies were far away from the Civil Service world. However in reality we're more tech-savvy than you might expect. Let me show you the insider's view of HMRC!  
I once interviewed someone from the alcohol industry and surprisingly, they have a similar innovation team to HMRC. From what he described, they study insights and trends to find or create the alcohol that they believe will make big money in 5 years' time. For example, the company predicted that tequila would be popular again; we can check out in 5 years' time if that prediction comes true.   
Back to HMRC, we don't sell products, however the innovation team do solve real problems by thinking ahead to 5 years' time. That's the reason why we match up the problems we have with new technologies like blockchain technology, Open Banking and so on. We then try to evaluate whether it is worth investing money into these new things or not, so we're not wasting taxpayers' money.  
So, how does innovation work in HMRC? 
The way we approach new technologies is scientific and user-centric. Here are the 3 steps we have:  
1.
Problem definition
We start with user research to get a deep understanding of the causes and the reasons behind the problem, this ensures that we are not solving the wrong problem or just part of the problem. Popular research methods we use are:   
desk research 

 

contextual interviews 

 

remote interviews 

 

diary study 

 

surveys 

 
2.
Technology ideation
With our senior leaders' contributions, the whole innovation team is equipped with knowledge of multiple new technologies. Ideation helps us find the most suitable potential solutions to solve the specific problems. This involves:  
architects to look at the big picture

user researchers to offer user insights 

 

business analysts to evaluate the feasibility 

 

service designers to fit all these pieces together to solve the problem as a whole 

 
3.
Concept testing
It's always exciting to bring our concepts in front of the real users to see what they think. With something in hand to show, even low-fidelity prototypes, we could gather more realistic insights. It's still not too late to turn around if the concept isn't working.  
Find out more about HMRC
Discover more about what we do, our business areas, and life at HMRC.
About HMRC
Blogs
Read blogs from our team about their career, experiences, and the work they do as part of the Chief Digital and Information Office (CDIO).
Back to blogs