About the Delivery Graduate Scheme
Our scheme is an exciting opportunity for aspiring graduates to gain valuable experience working alongside legal, economic, financial and other experts across our delivery teams.
You will do three 12-month placements in different teams and contribute to the delivery of high-quality outputs, assisting major investigations and studies.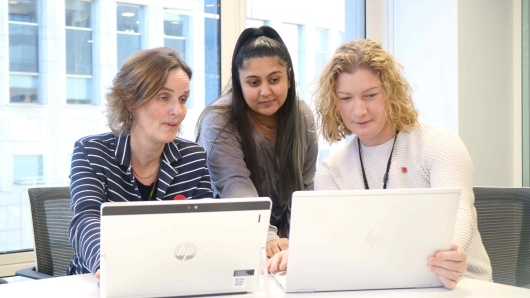 You will be supported through a structured training programme, combining internal and external courses, spread over the three years of the scheme.
What your career path could look like
Ann Pope started her career in the Government Economic Service as an assistant economist at the Department of Trade and Industry and has worked her way up to become our Senior Director of Antitrust and Head of the CMA's Delivery Profession. Our scheme aims to offer graduates the same springboard.
The GES fast track scheme not only helped shape Ann's career but helped her see how much she enjoyed competition work. We interviewed Ann about her career so far; find out what she had to say.

It's good to be confident in your abilities but self-awareness is also important and helps you to improve your performance, so don't ignore developmental feedback
Progressing your career at the CMA
We are committed to supporting you to develop the knowledge, professional skills and experience required to advance your careers. We believe one of the best ways for you to develop is to provide diverse opportunities in your day-to-day work experiences. 
You will learn in teams, working closely with stakeholders, peer professionals and senior colleagues who will help you accelerate your learning through sharing their insights and experience. 
You will access a comprehensive formal learning programme including professional learning, technical learning, leadership skills, management skills, business skills and conferences. We offer a suite of professional and skills-based training through the CMA Academy and Know-How teams and Civil Service Learning, covering all areas of the CMA's work. You will also access a wide range of opportunities that will support you with your well-being,
Where you could work
Digital Markets Unit
Mergers
Legal
Consumer
Anti Trust
Markets
Register to create an account and receive job alerts from the CMA.