HM Revenue
& Customs

My VAT Compliance Officer training journey
Hear from Verity about how she transferred her previous job experience into a new career in tax.
Looking for something new
I have always enjoyed investigating, particularly looking for patterns and digging deeper to get to the source of the issue. I worked for the Metropolitan Police as a Communications Officer for a time but soon found out this wasn't the job for me. I enjoyed the investigative work that went with this role but didn't enjoy the unsociable hours.
This is when I saw a job advert for a Compliance Officer at HMRC and decided to apply. I had done a little compliance work before when I worked for a serviced office business. I made sure businesses were legitimate before they signed up to use the service and enjoyed doing this sort of work, but it wasn't tax related.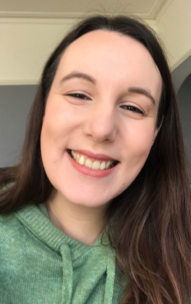 Training time
I'm now a VAT Compliance Officer at HMRC. Before joining I knew shockingly little about VAT or any other tax. I knew that VAT was an acronym for Value Added Tax and that it would appear on my receipts, as well as the debate about whether Jaffa Cakes are cakes or biscuits, which had something to do with VAT. This was the extent of my knowledge.
So naturally after hearing I got the job, I was a little apprehensive. Did I need to be a maths whizz to do a job like this? Was I smart enough to understand how all this works? Am I even really interested in tax?
I'm pleased to say these doubts soon went away. HMRC provided a welcoming induction which made me feel at ease straight away. During my induction I learned a little more about my role, HMRC as a whole and my planned training journey. I also had a call with my manager who made it clear she was available to answer any questions or concerns I might have.
During the next few months, HMRC provided a fantastic training programme made up of online learning and face-to-face sessions which gave me the knowledge and skills I need to perform well in my job. The training was challenging at times, but I was learning something new every day which was an amazing feeling.
All the trainers really tried to make the sessions as engaging as possible which really helped, it never felt like someone was talking at me for hours on end. It's clichéd to say, but it was made clear that there's such thing as a stupid question which made me feel comfortable to speak up and ask questions if I didn't understand something. It was a fantastic learning environment.
VAT's all she wrote
I'm now coming to the end of my 18-month training journey and have my own cases to work on. A typical day might consist of doing some research into a business, checking their records to make sure the correct VAT has been applied to its sales and purchases, or conducting a premises inspection.
I love the investigative part of the job, where I'm able to get out and about and meet with customers to find out more about their business. I like helping businesses get their tax right and to help stop the small minority of customers who avoid paying tax.  This really gives me great job satisfaction.
Joining HMRC has been a really great decision. I feel supported and appreciated in my working environment, I enjoy my day-to-day duties and I'm in an organisation that feels inclusive and diverse.
Find out more about HMRC
Discover more about what we do, our business areas, and life at HMRC.
About HMRC
Customer Compliance Group
Find out more about out Customer Compliance Group and the work they do.
Back to Compliance