Civil Service


Suzanne Hanna
Suzanne Hanna, 48, works in the Department for Work and Pensions as an Operational Leader. Read their story below.
Tell us a bit about your journey into the Civil Service
Since leaving school I had always worked in the private sector working my way up to Senior leadership roles. I finally decided I wanted to have a career change, but after 28 years in the same industry, I wasn't sure what I wanted to do.
I viewed local job adverts and saw a customer service position that really appealed to me . I was successful in securing an AO telephony 18 month fixed-term appointment (FTA) position. This was within DWP disability services personal independence payments.
After 10 months in the role, I decided I would look for a new challenge within the Civil Service and was successful in securing a two year FTA as a personal independence decision maker. I found this role extremely rewarding. I was made permanent around 14 months into this contract.
Supported by the department, I passed my Level 3 apprenticeship and went on to do my Level 4, this gave me the confidence to apply for a temporary detached duty HEO role which led onto me applying for my current permanent operational leader HEO role within DWP CFCD.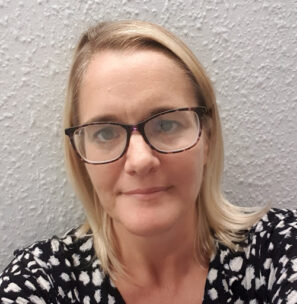 Describe a day in the life at your current role
My command consists of four team leaders, with each r having an average of 10 members of staff. I work in the office three days most week and work from home for the other two days. My role is varied; it is a very faced paced environment. Some of my teams are telephony whilst others complete casework but go on the phones in busy periods.
My first job in the morning is to drop a morning hello into my team chat, to make sure all of my team leaders and team members are okay. I log onto our systems and look at the call volumes, amount of calls waiting and call answering times. Then I attend comms meetings with my senior leaders and communicate all messages via comms with my team leaders. We often have a quiz to add a little bit of fun to the day.
Throughout the day I look at workflow and work types and move colleagues from one work type to another to meet the business needs. I make these decisions using the evidence I have from our reporting systems. I also complete daily HR duties and liaise with HR and complex case work on these.
Tell us about your Civil Service highlights and successes so far
I am really proud that, after a long period of time out of education,  I have passed my Level 3 apprenticeship and gained a Level 4 qualification. Currently I am working towards a Level 5 diploma qualification. I have been involved in many different projects to date that have had an impact across my department. I was recently involved in developing and delivering a telephony strategy that impacted over 3000 colleagues in disability services. I am very proud that the new strategy has led to a much better level of customer service to some of the most vulnerable customers in our society.
Having the opportunity to deliver appeals upskilling sessions to the site I was based at to enable over 100 colleagues to be able to complete the appeal writing process. This meant the department became compliant in meeting the service level agreement times with HMCTS, again resulting in a much improved service for our customers. Certainly a highlight was achieving my recent promotion, I have had the opportunity to develop myself within the department, to give me the knowledge and skill set to be able to secure my new role and be able to confidently apply for new positions.
Tell us a bit about your team/colleagues
I am surrounded by great, supportive colleagues, this is from both senior leaders, team leaders and all other colleagues. We try to put a bit of fun into our comms and keep engagement high. It has most definitely been a very difficult past couple of years, especially dealing with the challenges COVID-19 has brought. However, we have all learnt new ways of working through this and supporting each other.  By working closely as a team, we all have a good understanding of each other's roles and working practices. I have made strong bonds with colleagues, some of these are now some of my best friends both inside and outside of work.
My colleagues all have a high level of respect for each other and we are all able to be open and honest and work in a very inclusive environment. We will always support each other and make sure all team members' opinions are listened to. As a team of colleagues we consider everyone's needs.
What are your hobbies, and how is your work/life balance?
Working within the Civil Service has enhanced my work life balance. Here in the DWP we have the benefits of flexible working times, which I have never had access to in the private sector. I love to spend time with my family. My son has just recently gone to study for his degree at Dartmouth college in the USA, so I am hoping to get out to see him at some point this year. Travelling with my husband is something I enjoy, and I am looking forward to getting back once it is safe to do so.
I practice yoga and attend classes. This is something I started doing a few years ago, I find it relaxing and a great way of winding down. I also started running last year and again this is something I find really enjoyable. I have two dogs that I spend a lot of my spare time taking out for walks. Working in the Civil Service fits perfectly with my life, it allows me to develop my career alongside doing the things I love in my own time.
What makes you proud to be a Civil Servant?
The thing that makes me the proudest about being a civil servant is knowing that I have an impact on hundreds of thousands of citizens.
During the pandemic we all worked together as a department to help other benefit lines and areas in the business to support our customers. It was at times very hard work, lots of learning and multi-tasking involved at times it was challenging, however the team spirit and supporting each other shone through. We managed to achieve excellent results, helping customers when and where it was most needed. Supporting people who had lost jobs, helping people applying for disability benefits and customers who needed urgent access to benefits.
I am very proud that I am able to work amongst a fabulous group of people, delivering excellent customer service to our customers.
What advice can you give someone unsure about the Civil Service?
I would say go for it, the career opportunities are endless. You will be supported completely with your personal development, the Civil Service offers a wide and varied choice of apprenticeships and qualifications that you can work towards all of this supported by the department. You are allocated time during your working week to complete these and they are all paid for with no cost to you, it's a chance to gain a nationally recognised qualification.
There are so many  opportunities to grow within your role or move to new areas of the Civil Service to grow your skill sets. We have buddy schemes and mentors to support you in every role. Career progression is encouraged, if you decide you are happy and don't want to move roles that's fine. If you decide to look at new roles and develop yourself there is no better place to do that than within the Civil Service.
Back to National Careers Week Hub
Return to the National Careers Week Hub to find more information about joining the Civil Service.
Back to Hub
Back to Blogs
Return to our list of blogs from apprentices, fast streamers and more.
Back to blogs