Civil Service


Mohammed Khizar
Mohammed Khazar, Age 33 works in Cabinet Office as a project manager. Read their story below.
Tell us a bit about your journey into the Civil Service?
I'm Mohammed and I am coming to the end of a private secondment in the second year of the Project Delivery Fast Stream. I have worked in HMRC on Making Tax Digital and with PA Consulting which posted me to work for NHS England on the vaccine programme. In 2017 - 2018, I was 30 and had left an eight - year teaching career, and joined the National Probation Service. I had been applying for jobs and failed many interviews.
One morning I received a call from a friend saying something about the Fast Stream and the deadline was midday! I said I couldn't possibly apply in 20 minutes. He said I'd only need to input my name, right to work and a few other details while the rest of the application would follow. What followed was a series of online assessments, multiple choice questions, video interviews, the ever - daunting assessment day and another final video interview. I always advise people, 'the hardest part of the Fast Stream is securing a place' and then you're part of the process.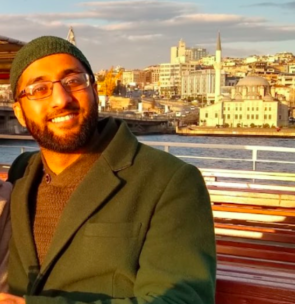 Describe a day in the life at your current role
I wake up bright and early and after a hearty breakfast and some press ups, I am ready for the day ahead. After checking and replying to emails, I prioritise my tasks on an evolving to do list (on a post it or a Kanban). I take regular breaks, make time to contact colleagues and managers before parking my job for the day and logging off at a sensible time. Other than that, I don't think there is a typical day in Project Delivery. Each day actually is a different day. I only focus on developing and transferring my knowledge, skills and attitude. I establish the ultimate outcome of a task, plan a method to achieve it, understand any (time, cost, quality) constraints and enjoy the journey to deliver. I remain positive in my approach, resilient to push backs and embrace challenges confidently. This routine has proven effective for two and a half years and I'm hopeful it will only be enhanced as time advances.
Tell us about some your Civil Service highlights and successes so
 I have been honoured to have had the opportunity to work on two major government projects: Making Tax Digital and the Vaccines Programme. I have applied myself to challenging and time sensitive situations and completed tasks successfully. During my time at HMRC, I was able to lead and deliver a specific and bespoke product for a particular customer group. This gave me the experience and insight to successful project management.  Working on the Vaccine Programme will probably be the highlight of my career. I worked on a live programme, with four departments to align critical information which was used to inform subsequent stages of the programme. Knowing that my work resulted in saving lives is truly fulfilling and humbling.
Tell us a bit about your team / colleagues
Projects are live organisms and their quality of life depends on the people it involves. My team and colleagues are my strength. Hierarchy is for accountability and responsibility. Other than that, I work in 'flat' structures where everyone can learn and benefit from each other – regardless of grade.
What are your hobbies outside of work?
 I enjoy spending time with my family, reading and going to the gym. The Civil Service and its flexible working arrangements allow me to balance my work and family life very well. If I ever need to take some time off, I am fully supported.
What makes you proud to be a Civil Servant?
Knowing that my work will impact ordinary citizens makes me proud. I am inspired to ensure their best interests are at heart and I feel glad my work is benefiting people day to day.
What advice can you give someone unsure about the Civil Service?
 Joining the Civil Service has been one of the best decisions I have taken. I have learned and developed immensely. I have been part of many projects which benefit many people and above all, the Civil Service values give a real purpose to my work.
Back to National Careers Week Hub
Return to the National Careers Week Hub to find more information about joining the Civil Service.
Back to Hub
Back to Blogs
Return to our list of blogs from apprentices, fast streamers and more.
Back to blogs