Civil Service


Miriam Parker
Miriam Parker, 22, works in the Department of International Trade as a project manager. Read their story below.
Tell us a bit about your journey into the Civil Service
When I was at university, I went to a talk on the Civil Service Fast Stream, and it sounded like everything I wanted in a job. I applied for SDIP and got rejected at the first stage. Rejection is always hard, but the Civil Service had so many opportunities I didn't feel too disheartened. 
In my final year I applied for the Project Delivery Fast Stream. As someone with dyslexia I was really excited by the prospect of applying for a role with such an inclusive employer. I didn't know anyone who had secured a place on the Fast Stream so I was worried I would struggle to prepare for the recruitment process. However, the Fast Stream has loads of resources to help me prepare. I had only positive experiences throughout the application process, and it confirmed that the Civil Service was the place I wanted to work. I was thrilled when I got accepted and so excited to get started. I was lucky and got my first-choice department: International Trade.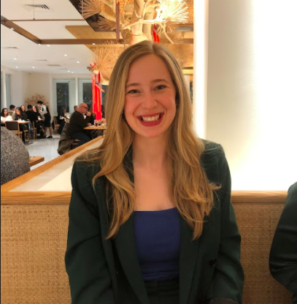 Describe a day in the life at your current role
I am a project manager in DDaT (Digital, Data and Technology) with the Department of International Trade. I am not a technology minded person so when I saw this was my posting, I was nervous, but I couldn't have been more wrong. Usually in the morning I check the joint mailbox I help manage and make sure all our emails are sorted. Then I answer any emails I have received since logging off the night before (not very many normally). 
I work in risk so then I will have a couple of meetings discussing the risk level present in the different projects we work on. My role is to help improve the area I work in. I will normally have a meeting to discuss our next stages and allocate different actions that need to be completed. Next, I will probably do some work on my own – data cleaning, making GANNT charts or formatting dashboards (I didn't know any of these terms until I started). Throughout an average day I will also have a coffee catch up with my team and do a bit of work on my fast stream objectives. Every day is different really, but overall, I love my day-to-day job.
Tell us about your Civil Service highlights and successes so far
I have had two main highlights regarding  the Fast Stream so far. One was presenting my area of work to my whole directorate during our weekly huddle. One of the best things about the Fast Stream is that you are given responsibility and support from day one. Presenting to lots of people can often be intimidating but having the support of your manager and team can be helpful in breaking out of your comfort zone. 
My second highlight has been getting to grips with a data platform my team uses. I have always been a humanities student so working with data was very unfamiliar to me. It was not something I expected to be doing in my role, but it has been brilliant to learn a new skill. Starting from scratch can be intimidating, but well worth it.
Tell us a bit about your team/colleagues
I work in a small team. My immediate team is made up of me and four other people of a variety of grades. However, my job requires me to work with lots of other teams. This is great because you get to meet a lot of different people from all over the department. I have had an insight into lots of different projects which is helpful when it comes to looking forward to my career. 
However, the brilliant thing about the Fast Stream is you get to meet a completely different set of people than those in your team. From departmental Fast Stream leads to other fast streamers in a variety of departments, you will get to meet lots of different people. Despite all being on the FastStream, we do hugely different jobs which makes lunch time chats pretty interesting.
What are your hobbies, and how is your work/life balance?
Work life balance is very important, but it can be challenging when you start a new job. I volunteer as a Girl Guiding leader in Westminster near my office. It's really enjoyable after a day at work to decompress and do something to help the community I work in. Plus, it often comes with free biscuits which is a bonus.
I recently signed up to a charity run, so running has now been added to the routine. I spend a lot of time when I am not at work exploring London. Until I started on the fast stream I had never lived here. Moving seemed intimidating at the time but was definitely worth it. Apart from that, I do a lot of reading and cooking which both help a lot with relaxing after work. It's important to have things outside work you enjoy, especially if you are moving to a new place.
What makes you proud to be a Civil Servant?
For me, there are two things that make me proud to be a civil servant. One is that I get to be part of such an inclusive workforce. My team is made up of people from a multitude of backgrounds. As a person with a learning difficulty, I have never felt anything but supported at work. The culture of the Civil Service puts a huge emphasis on empowering everyone, no matter their background. I think this is definitely something to be proud of.
Secondly, I would say getting to work for an organisation that helps the country run smoothly. Feeling like my job helped others, in even a small way, was really important to me. Getting to watch civil servants do so much to help the country makes me proud of what we all do.
What advice can you give someone unsure about the Civil Service?
Just find a role that sounds interesting and give the application a go. The Civil Service has so many roles in various places. There is something suited to everyone. As a young person, applying for a professional job can be very intimidating. But you really do not know what you are capable of until you are in the role. So, do not be scared if a job sounds like it might be a challenge for you. Those jobs are often the most rewarding.
Back to National Careers Week Hub
Return to the National Careers Week Hub to find more information about joining the Civil Service.
Back to Hub
Back to Blogs
Return to our list of blogs from apprentices, fast streamers and more.
Back to blogs