Civil Service


Mary Coleman
Mary, now 23, joined the Civil Service when they were 21. They currently works as a project manager in the Home Office. Read more about their journey here.
Tell us a bit about your journey into the Civil Service
I'm Mary and I joined the Civil Service when I was 21 years old, straight after I graduated from university. I didn't know what I wanted to do, and I thought the Civil Service was a good chance to experience a range of different opportunities. Having grown up with a single parent, and none of my family members having ever attending university, I wasn't sure what was out there in the world.
Since working at the Civil Service, I have worked at the Department for Work and Pensions, the Department for Education and now the Home Office. Here at the Home Office, I project manage a renovation project looking to rebuild and re-design some old accommodation buildings.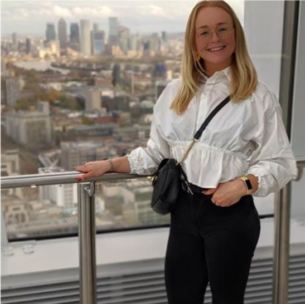 Describe a day in the life at your current role
A day in my life consists of me waking up early and going to the gym before starting work around 8:30am. I always like to check my calendar and emails first thing and make a to-do list of all the tasks I need to get done. Every day at 9.30am I meet with my project team, and we talk about what we have planned for the day and if we need any help. From 10am to 11.30am I will usually work on different tasks, such as updating or writing project documents, or managing the project schedule. Today from 11.30am till 1pm, I am running a risk workshop with project stakeholders, where we will talk and assess any risks and potential issues with the project. 
I then have my lunch break and I will usually go on a short walk to get some fresh air and stretch my legs. In the afternoon, I have another meeting to share updates about my project and others, with people who are invested in how the project is going. Then for the rest of the day, I will work on clearing my to do list. I usually log off at about 4.30pm, and will then spend the rest of the day either playing rugby or seeing my friends.
Tell us about your Civil Service highlights and successes so far
Since joining the Civil Service in September 2019, I have experienced a range of different roles and have learnt so much. One of the stand-out experiences was supporting people claiming Universal Credit when the pandemic first hit. It was rewarding and fulfilling being able to help and support people who had been hit hard by the pandemic and lockdowns. One of the best things about working for the Civil Service is that no matter what you are working on, you can have a direct positive impact on people's lives, which is really empowering.
Tell us a bit about your team/colleagues
In my current role, I work in a small project team, with myself and another project manager, two project support officers and the overall programme manager (who oversees multiple projects). Together, we work as one team to run two joint projects for a site in London. Our team is based across the UK, with people in London, Manchester and even Glasgow. We will talk to each other every day in our morning meetings to catch up, share our plans and talk about any problems we may be facing. We support each other, and have a great relationship, even though we are dispersed across the UK. There is also a range of ages, from 23 to 55 years old.
What are your hobbies and how is your work/life balance?
I have a great work-life balance, where I love my job and the work that I do, but I also have lots of free time to do things I love outside of work. I enjoy working out and will go to the gym most days, but my main hobby is playing rugby union for a semi-professional team. I train at the rugby club twice a week and have a match most weekends. I also love to hang out with my friends, watch movies and read books. With the Civil Service offering flexible working, I feel like I have enough time to do everything I love and succeed at work.
What makes you proud to be a Civil Servant?
One of the main reasons I applied for a job at the Civil Service is the fact that I wanted (and still do) to have a positive impact on the lives of others. I quickly realised that working in a hospital was not for me, and so decided that the second best place to have a positive impact on as many people as possible was to work for the government that influenced everyone's lives. I am proud to say that I have helped this country get through a pandemic and helped have a positive influence on hundreds of people's lives. I am pleased to work for the Government and help make this country a better place for everyone in it.
What advice can you give someone unsure about the Civil Service?
The Civil Service is such an open, varied and welcoming place, which offers so much for so many people. Regardless of who you are, or where you come from, there is something for everyone and every interest. The Civil Service is a great place to find what you do and don't like and offers so many opportunities to develop and grow. I would say seize the opportunity and take the risk. If it doesn't work out for you, then you will at least have gained some invaluable experience, and if it does work out for you, then great.
Back to National Careers Week Hub
Return to the National Careers Week Hub to find more information about joining the Civil Service.
Back to Hub
Back to Blogs
Return to our list of blogs from apprentices, fast streamers and more.
Back to blogs