Civil Service


Jules Flyn
Jules Fynn, age 23 works for the Department for Transport, HM Coastguard, Maritime & Coastguard Agency, as a Senior Maritime Operations Officer. Read their story below.
Tell us a bit about your journey into the Civil Service
I first learnt about the Civil Service at school on a career's website. At university the Civil Service Fast Stream was well advertised and present at careers fairs and a lot of people from my university joined the Civil Service. Having been into sailing, I had considered the HM Coastguard as a career but didn't realise it was part of the Civil Service, until  I set up job alerts on the Civil Service careers website. I didn't want to leave London so didn't apply until roles were advertised in the city.
At the time I applied I was working in commercial archaeology having studied archaeology at university. I spent a lot of time on my application, researching the competencies, and it paid off as I was offered an interview. I was fortunate that career support at my university had included mock interviews and I had completed a practice interview with the Civil Service in second year, so I knew the sort of things that might be asked.  I received a job offer and began working in the CivilService in March 2021 having applied in September 2020.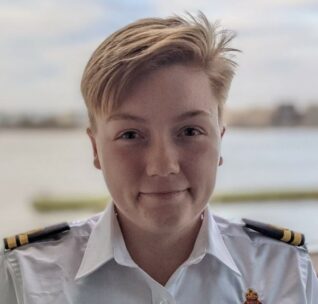 Describe a day in the life at your current role
As HM Coastguard is an emergency service, at any point in the day I may receive a 999 call or be informed of an incident by another emergency service, via radio or through a computer link with the police that covers the London zone. VHF channel 16 is constantly monitored to listen out for distress, urgency or safety calls.
I take calls, create an incident and record all the relevant information then plan and implement an appropriate search and rescue response. This includes tasking appropriate assets to attend the scene, continuing to gather and interrogate information, communicating with other emergency service control rooms and on scene responders by phone or radio, and planning any maritime searches that may need to take place. 
Throughout the day I also take routine calls from the public or the search and rescue assets, including the RNLI lifeboats on the Thames, Lambeth Fire pontoon and the Marine Policing Unit at Wapping. 
When I'm not busy with incidents or calls I keep up to date with  my knowledge of Search and Rescue procedure and local knowledge of the Thames, and occasionally take part in multi-agency exercises, such as the monthly major incident exercise.
Tell us about your Civil Service highlights and successes so far
My highlights so far have been attending CPD training in Bournemouth, where I learnt about searching for missing persons and flood response with our Coastguard Rescue Teams. I went  in the sea and learnt about rescue techniques and recovery from raft capsizes, used in flood rescue. 
Another highlight was visiting the Marine Police at Wapping and going afloat on a Targa and then a rib, I got to cross deck onto while both vessels were moving.  I then got first-hand experience of the rib's capabilities conducting high-speed manoeuvres in Greenwich Reach with landside PCs learning about the marine department.
I particularly enjoy the visits as they are not only a fun day out but also key to maintaining the close relationship we have on the Thames and respecting and understanding each other so we can work effectively in emergencies when the situation arises. We try to visit the lifeboats, police and fire boats as often as possible to maintain and develop these relationships and keep up to date with any operational changes. 
It's also always a highlight when a casualty is located safe and well, particularly after a long search.
Tell us a bit about your team/colleagues
Although I am a lone worker on shift, I am one of six who make up London Coastguard. We each do a 12-hour shift beginning at 6:30 either in the morning or evening. Although we do not work directly together, we see each other at handovers and speak to each other or see each other on special events such as New Year's Eve when a coast guard is on the river, as well as in the operations room. I went through training with one of my colleagues, so we often chat and catch up outside of work too. It's very important to have a colleague to talk to about our work especially as a lot of what we deal with is sensitive. 
Although there is only one coastguard at a time on duty at London, we sit alongside the Port of London Authority VTS so there's always two other people to talk to. I also count the river assets as my colleagues as we speak to each other so often and work alongside each other in incidents although representing varying agencies and organisations. Particularly with the lifeboats, the relationship goes beyond operations, and we chat about our home lives too.
What are your hobbies, and how is your work/life balance?
Outside work, I enjoy dinghy sailing and taekwondo. I also volunteer with City of London Sea Cadets and the Rona Sailing Project, several times a month I am on HMS Belfast for their parade evenings or doing various adventurous activities. A few times a year I go sailing on a large yacht leading a crew of trainees.
My work life balance is very good because I work 12-hour shifts, I am on a four on four off rota so I get four days off between shifts, and when transitioning from days into nights it is technically five days.  It also means that if I book a round off, I actually get 12 days off.
Obviously, you work a lot of weekends and public holidays, but you receive allowances for that and get your 'weekend' on a weekday so it's great for going out as it's less busy.  It can be hard if your friends or family work a 9-5 role but luckily for me many of my friends are shift workers or live abroad so I can still see and speak to them regularly on my rota.
What makes you proud to be a Civil Servant?
I am proud to be a civil servant as I am working in a role which has a real effect on people's lives. I am able to implement change and contribute to discussions about change with the aim of improving lives. When I run an incident, I am in a position to assist a casualty  by coordinating assets, hopefully recovering them and allowing them to take the first steps on the road to recovery. 
Within the Department for Transport, the Maritime and Coastguard agency aims to be a world leading search and rescue organisation and currently there is lots of new technology and systems being implemented which make it a great and dynamic place to work. It's great to be able to see change happening and to know everyone is working together with the aim to save lives and prevent future accidents and incidents.
What makes you proud to be a Civil Servant?
I would say if you are considering doing it just go for it! Even if you do get a rejection the application process will massively improve your ability to apply for jobs due to the questions asked, the competencies framework, and the requirement to take the online aptitude tests.
Once in the Civil Service you get access to a lot of opportunities and courses and get to have a career in a highly respected organisation, working in a role that actually makes a difference and can help improve lives. There is the opportunity for great career progression and things like leadership courses which you can pursue if you want to.
When I applied for this role, I was sure I would not get it, but I applied anyway to get the application form and interview experience and was shocked and very pleased when I received a job offer.
Now I am here I get to work in a varied and fast-paced environment that challenges me and includes a wide range of skills. It also opens up the ability to apply to work in other Civil Service departments and gain internal promotions and opportunities.
Back to National Careers Week Hub
Return to the National Careers Week Hub to find more information about joining the Civil Service.
Back to Hub
Back to Blogs
Return to our list of blogs from apprentices, fast streamers and more.
Back to blogs