HM Revenue
& Customs

Rescon 4.0: user research conference
Get all the highlights from our 4th annual user research conference, ResCon, held on 12 and 13 October 2021.
The 4th user research conference
The 4th Annual ResCon (user research conference) was held on 12 and 13 October 2021. Over 100 professional user researchers came together virtually to hear from a number of external speakers.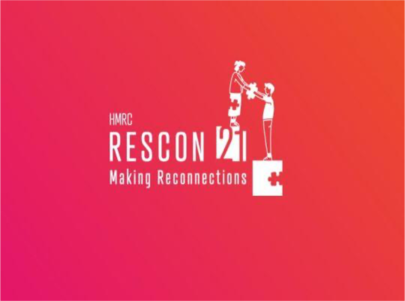 Making reconnections
This year's theme for the conference was making reconnections. Although the User Research team in HMRC has continued to do research during the pandemic, we've had to change how we do it. ResCon gave us a chance to see what we have done well and what needs improving.
ResCon was launched by our very own Head of User Research and Digital Inclusion, Accessibility and Standards at HMRC - George. He talked about how our community has grown to 120 user researchers across the digital centres; how the user panel has increased since last year by 23% to over 92,000 users and how our community is continuously advocating for user needs and user-centred design within the digital services.
Create meaningful connections in a hybrid environment
The first keynote speaker was the Head of Engagement at Cirrus, who talked about 'How to foster affinity and belonging in a hybrid world'. This session explored what we've learned during the pandemic, and how to build more meaningful connections as we balance remote working with a return to the office. We've since added an informal and social element to our regular team meetings to help build and maintain relationships with our colleagues.
Teamwork makes the dream work
The second speaker was the Head of Experience Design and Research team at Frog. This session explored 'How interdisciplinary teams make their mark' and how to work with diverse and interdisciplinary teams to produce inspiring and exciting outcomes that make their mark.
The takeaway for the community from this session were:
having the right people (teams should be willing to integrate their thoughts with their teammates' ideas)

adopting different styles of collaboration (adopt whichever collaborative structure is most appropriate for their project)

avoiding jargon to develop a shared understanding
What makes a good – and bad – workshop?
Opencast & Newcastle OpenLab ran a workshop on 'How we can best communicate online'. The conference delegates discussed and shared how to best conduct online workshops and looked at tools for facilitation, communication, and how to structure workshops.
The top tips from this session included:
making sure you set clear objectives about what you want your remote workshop to achieve before you start any work on the session

testing out the technology and tools you are planning to use before the workshop and making sure everyone has access to the tools of your choice

using your own learning from past experiences and workshops you have attended to and make good use of external resources
The second day of the conference started with acknowledging and rewarding our community with our Third User Research Community Awards.
We were then joined by the Design Community with Deputy Director of Product & User Centred Design, Jeremy, who talked about the future of the Product and User Centred Design professions.
Finally, cxpartners ran a workshop which focused on 'Co-designing our post-pandemic UCD working practice'. The workshop allowed our user research and design communities to explore how we might adapt our working practices to take the best aspects of what we have learnt from remote working and modify them to result in new hybrid working practices to suit a post-pandemic world.
As a result of this workshop, we have identified key principles for working in a hybrid environment. These principles, created by the user centred design community, include:
continue dedicated team time to catch up. Consider the physical tools we use to ensure no one is excluded and we all get the best out of working in a hybrid way

make an effort to maintain relationships - ask a follow up question after 'how are you?'

invite the whole team on any one day to attend the office to allow the whole team to collaborate together

consider the inclusion of all participants - especially when you can't see everyone present
Working together, works!
Overall, everyone thoroughly enjoyed the conference with such excellent speakers and engaging workshops, it was great to see the whole community come together despite the restrictions of the pandemic and be able to work together in a hybrid way.
Professional development is high on our agenda, so it was great for our user researchers to attend ResCon 2021.
Find out more about HMRC
Discover more about what we do, our business areas, and life at HMRC
About HMRC
Blogs
Read blogs from our team about their career, experiences, and the work they do as part of the Chief Digital & Information Office (CDIO).
Back to blogs