HM Revenue
& Customs

Meet the HMRC Digital Team: Sarah
Meet Sarah, a Senior Business Analyst in our Chief Digital and Information Office (CDIO). We caught up with Sarah to find out more about her career at HMRC. 
Tell us about your background and how long you have worked at HMRC.
I started in HMRC on a 3-month temporary contract in Child Benefit as a way of gaining some work experience after moving back home from university, and 18 years later I'm still in HMRC. 
When did you move into CDIO?
I moved to the Digital Delivery Centre in CDIO from an operational area in 2016 to work as a Business Analyst on the Tax Credit Digital Service. This was a new and interesting challenge for me, and I got to work with interaction designers, content designers, user researchers and the software development team to develop a service that is used by over a million people. This was eye-opening as I became more aware of the vast array of work undertaken at HMRC and how we interact with our customers.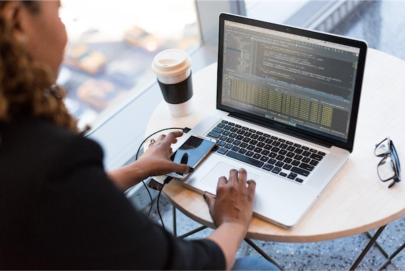 What kind of projects have you worked on in your role?
I had the opportunity to move to a different area in CDIO (Customer Experience & IT Business Services) and faced the new challenge of helping to deliver a digital version of the P800 tax calculation that users could access via their Personal Tax Account. This is helping us to move towards being a more paperless HMRC and taking into account how customers want to interact with them.
What are the main benefits of joining HMRC?
One of the main benefits of working in HMRC is the opportunity to work alongside people of all different backgrounds and experiences with everyone working together to help ensure a project is successful. I've also gained and developed many different skills during my HMRC career, and all the projects I've worked on have been rewarding to be involved in.    
The hybrid and flexible working is also great as it helps to support a work-life balance, and there is the opportunity to move across departments. 
What are you looking forward to most in the next 12 months?
Over the next 12 months I'm looking forward to upskilling and mentoring new business analysts, helping them develop the skills required within the role and putting them into practice when taking on their own projects.   
Blogs
Read blogs from our team about their career, experiences, and the work they do as part of the Chief Digital & Information Officer's Group (CDIO).
Back to blogs