HM Revenue
& Customs

Meeting user researcher needs for inclusivity
Senior user researchers, Robert and Niamh talk us through the importance of inclusivity when it comes to user research and community groups.
What does a user researcher do?
HMRC has over 150 user researchers, who all regularly attend community meetings to focus on being the best researchers they can be.   
As user researchers in government, we support building services that meet users' needs. As a result, we often focus less on ourselves and what we need to get the best out of our community. We wanted to understand how accessible our community meetings were and speak to researchers across government to understand their needs too. This will help us to improve our communities.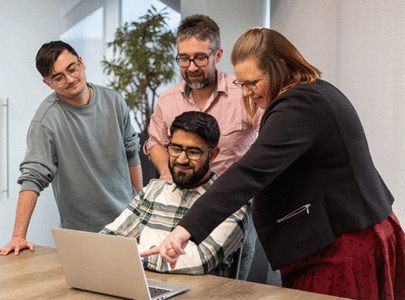 User researchers' needs
We wanted to investigate user needs within government user research communities and to explore levels of cross-government engagement.  
We conducted interviews with 13 user researchers across a variety of grades and government departments. The research shows the importance of meeting different needs.  
Communities of practice are vital to career and personal development as well as project success. It provides benefits to researchers' career directions and helps them to utilise the most appropriate research methods for programmes they're working on.  
Adapting meeting formats to meet user researchers' needs  
We learned user researchers need different levels of support and that user researchers' needs are different for each type of meeting. For example, researchers prefer to use the national larger community meetings to listen, to upskill and absorb information.   
 More practical discussions work better in smaller groups. User researchers need emotional support from other researchers. One researcher told us that research can be draining, and that only other researchers understand this.   
Smaller group discussions support user researchers with practical challenges and help them reflect after research interviews.   
It's all about working together, to solve challenges and deliver
User researchers want to feel part of something, they want a culture of support and wellbeing within their community of practice. Community meetings are vital in giving researchers time away from the day to day of their project work.   
There's a need for more Cross-government engagement too, researchers believe that they have the same challenges across government and that challenges can be solved together. Cross-government collaboration supports projects and promotes best practice.   
Making our meetings and communities more accessible
Considering how community meetings support the user research community, it's important that everyone is able to get what they need from them. Our colleague Amelie did some fantastic work to understand how user researchers at HMRC experienced community meetings. Amelie heard that whilst community meetings work for lots of user researchers, the format of virtual meetings could be improved to make them more inclusive and accessible. 
Here are our top tips for how you can make your meetings as inclusive as possible: 
Use a range of visual, audio and content

and evaluate the accessibility of your content before the meeting. Asking a colleague to review your content with accessibility in mind can help identify where improvements could be made. 

 
Sending slides ahead of time

means people have a chance to review them in advance. This is also an opportunity to let participants know they can share anything they need to access the session, either directly with you or via an anonymous form.  

 
Let attendees know in advance

if you're planning to use tools, such as Slido or Jamboard, and offer a tech testing session so that everyone feels confident using it. 

 
Turn on captions

, introduce new speakers and describe any visuals on-screen. This helps everyone understand what is happening. 

 
Breakout rooms

allow for smaller group discussions. The experience of getting into them can be stressful though, especially if an activity then feels rushed. Think about whether breakout rooms are the best way to involve attendees. If they are, make joining and leaving them as seamless as possible. 

 
Well facilitated breakout rooms

can help people understand what they're meant to be doing. It can also prevent some people experiencing the burden of having to speak whilst others feel left out. 

 
Different people learn in different ways.

Breakout rooms can feel overwhelming for some neurodiverse people, as well as for those experiencing temporary barriers, such as headaches. Some people need time to reflect, and others find that they process information by talking it through. Organise your meeting to include a range of activities, using different channels, so people can choose to engage how they work best. Options include combining breakout rooms with a survey, poll or feedback in the chat. 

 

Share a

transcript and recordin

g after a session. ​​This can help those who may have missed the meeting and people who may need to reflect on the topic before offering feedback.  

 
We'd love to hear what you've been doing to support the user research community and make it more accessible; let us know at user.experience@hmrc.gov.uk   
Find out more about HMRC
Discover more about what we do, our business areas, and life at HMRC.
About HMRC
Blogs
Read blogs from our team about their career, experiences, and the work they do as part of the Chief Digital & Information Office (CDIO).
Back to blogs