HM Revenue
& Customs

Meet the Early User Insight & Design team
Read our blog from Product Manager, Sam, who talks us through the newly created Early User Insight & Design team.
Who are the Early User Insight & Design team?
The Early User Insight & Design team is a new, early engagement team in HMRC's Chief Technology and Design Office. We caught up with Product Manager, Sam, to find out more about the team and the work they do.
The new team is made up of specialists in different digital, data and technology disciplines including user researchers, service designers and a project manager, who collaborate with other stakeholders across the organisation such as architects, content writers, developers and policy specialists.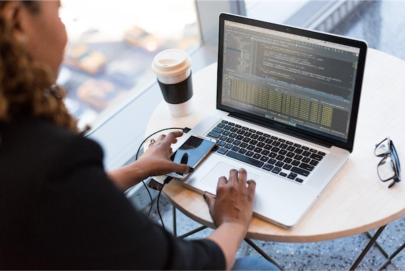 What do the Early User Insight & Design team do?
We are here to add value and to advocate for the needs of HMRC's users. We do this by seeing the bigger picture and collaborating across other directorates. We provide ideas and recommendations for potential solutions, and we influence decision making by using insight from our users.
The best way I can explain our work is for you to imagine an island, on the far side of the island is glistening treasure. Your leaders want you to go and get the treasure, but between you and the treasure is unknown territory and terrain. So, before you commission a large, and let's face it, expensive team to go and bring the treasure home, you might want to send a smaller party to explore the island and find you the best possible route to the treasure.
In short, we are that small team setting out to explore the unknowns in the complex terrain of HMRC's business infrastructure, to see if proposed ideas are viable and are likely to deliver the intended outcomes. This also means that we'll be able to identify less promising ideas quickly before a significant amount of public money is invested.
What others can expect from the Early User Insight & Design team
We can help others to define a list of user needs and suggest plausible opportunities to progress. Alternatively, if it seems there isn't a way to progress with a project, our team can explain why that is the case with transparent reasoning and well researched evidence.
We basically exist to narrow the 'cone of uncertainty' by providing stakeholders with the early evidence they need to either drive the project forward, or cease before efforts and resources are wasted. We collaborate, probe and analyse to provide the insight you need early in the service lifecycle.
If you would like to find out more about us and the work we do, you can email us at pucd-opsinbox@hmrc.gov.uk.
Blogs
Read blogs from our team about their career, experiences, and the work they do as part of the Chief Digital & Information Officer's Group (CDIO).
Back to blogs