Civil Service


Daniel Hickman
Daniel, 19, is a Policy Officer Apprentice in the Department for Levelling up, Housing and Communities.
Tell us a bit about your journey into the Civil Service
During my time in college, I had a part-time role where most of my learning was on-the-job and I found from that experience that it was a very effective way of learning for myself. When I combined that with my ambition of being in a role where I can help society and the world in any way possible, a Civil Service apprenticeship seemed the perfect fit. I learnt about the Civil Service and what DLUHC was aiming towards through the relevant gov.uk websites and felt from my experiences, DLUHC was a great place for me to join and develop. 
A choice was available between a policy advisor apprenticeship or project management apprenticeship, and I chose to pursue the policy route as I really liked the idea of being part of policy change and all the research and analytical work that goes alongside. After a two-stage interview, I was successful in my application and began working as part of the Welcome Back Fund team in November 2021.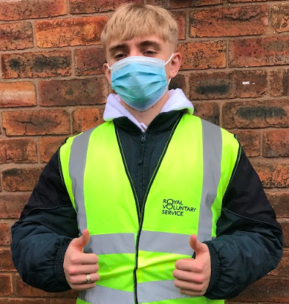 Describe a day in the life at your current role
A day in the life for me currently starts at around 8:30am, yet thanks to the department's flexible working hours system, this can be earlier or later each day. Once I get set up, I spend the first part of the morning checking emails, messages and my calendar so that I know what to expect and what needs to be done throughout the day. 
I then spend up until around 12:00pm working through WBF project-related tasks such as dealing with claims, managing the team inbox, updating trackers or as of the time of writing this, producing case studies for evaluation of the project. 
I then take a 30-minute break and get back to business. You can have longer, I just eat quickly!
I briefly check my inboxes and calendar again to refresh and focus my mind on the tasks at hand and typically finish up around 17:00. As I am on an apprenticeship, every Friday is a dedicated study day which is a blessing to be able to take and allows me to fully focus my mind on progression there.
Tell us about your Civil Service highlights and successes so far
Coming into the Civil Service I wouldn't have said that presenting was a good skill of mine but thanks to the amount of training and support available, I have now comfortably presented in both team meetings and divisional meetings which for me was a very good feeling!
I have also started to fully work on my team's project as well as evaluate it. This has been challenging but very fun, it's good to get hands-on with my work.
I have been communicating with stakeholders, and I have had meetings with representatives of the stakeholders where I was the sole person from my team, which was equally terrifying and rewarding for the first time!
The Civil Service has also given me the chance to be a volunteer and through the department, I have begun volunteering at covid clinics as a steward to help the process run smoothly.
Tell us a bit about your team/colleagues
My team is currently 16 people strong, and we are all working on the delivery of the WBF. WBF is a revenue fund brought forwards in June 2020. It aims to help high streets and local businesses during and after the pandemic, offering funds to make the areas safer and hosting events, hoping to bring more people back to the high street. 
All my colleagues have been very helpful, getting me up to speed with both Civil Service life and our project work. 
I have had a one-to-one meeting with everyone on my team to get to know them, which I found useful in the current hybrid circumstances. I am also on the team with another apprentice, which has been good in terms of supporting each other and working together.
What are your hobbies and how is your work-life balance?
Outside of work, my spare time is filled with sports and gaming. Sports wise, I am a massive Wolves fan and I have a season ticket for all home games. I am also very much into darts which is a questionable 'sport' for some, but very hard to beat in terms of fun with friends!
I feel my work-life balance is currently very good for me. I need to thank my manager for that, as they pushed the fact we are allowed breaks and holidays onto me, stopping me from getting wrapped up in work. The flexible working model also helps support your work-life balance as if one week you do slightly overwork, you are able to take some time off in the future to compensate for that.
What makes you proud to be a civil servant?
I'm proud to directly see the work we are doing as a team produce tangible results. Communicating with stakeholders, getting the most out of the fund, offering support and ultimately delivering the funding for their activities is a great feeling. When the next quarter's reports come around from the councils and local authorities, we can see clearly see the changes taking place. Also, telling my close family that I have an apprenticeship in DLUHC was a lovely feeling!
What advice can you give someone unsure about the Civil Service?
Although I am still relatively new, the Civil Service is already offering so much to me. I have opportunities to develop, a great work-life balance, and a chance to unwind and slow down when needed. If you were unsure about joining because you feel you do not 'fit the bill' skills-wise, I can assure you that if it is presenting, writing, IT or managing timelines you struggle with, there is a course or a training event to help you move past the lack of confidence you may have there.
I would suggest reading about the department you are interested in and learning what its aims are. Although it is something I do not want to recommend straight away, there is always a chance in the future to switch departments, let alone teams, so don't feel you would be signing your life away. If your worries revolve around the actual work, do not panic at all. The support available in the Civil Service is amazing, and everyone is on your side.
Back to National Careers Week Hub
Return to the National Careers Week Hub to find more information about joining the Civil Service.
Back to Hub
Back to Blogs
Return to our list of blogs from apprentices, fast streamers and more.
Back to blogs