Civil Service


Ashley's blog
Ashley, 39 works in the Home Office as an Assistant Director. Read their story below.
Tell us a bit about your journey into the Civil Service
I joined the Civil Service  when I was a 17 year old who didn't know what they wanted to do when they grew up but found a career that I was absolutely passionate about. I had just completed my GCSEs at high school, and after years of struggling with short term memory and reading things far more thoroughly than my friends and peers to get the same understanding, I was finally diagnosed with dyslexia.  I was worried that my career would never really take off, but found to my great surprise and delight that the Civil Service was more than happy to make reasonable adjustments. if they helped me overcome any difficulty my dyslexia presented. What followed was years of additional reading time and the flexibility to print things on different papers, plus great support from the Civil Service dyslexia network.  
The Home Office gave me opportunities to progress, having been promoted five times in the first 12 years, and also to do something that means something. I work hard to protect people and the public, to combat the criminality behind organised crime and to help counter terrorism.  Growing up on a local council estate, I was eventually one of 12 members of my family that worked for the Civil Service in Croydon. My mum started this all off. She spoke so passionately about the work she was involved in, and the flexibility she had as a young working mum, that it became an obvious place to start my professional life. I stayed because I loved the experiences I had as well as the opportunity to earn and learn new things while furthering my education and travelling, not just around the UK but parts of the world I'd never before seen.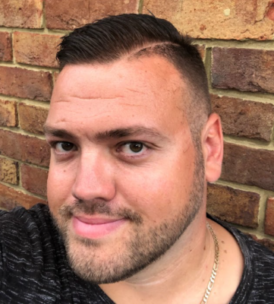 Describe a day in the life at your current role
I am currently a project manager, a role I got into because of graduating from the Future Leaders Programme, one of our talent schemes.  I have the flexibility to set out how and where I'm going to work by delivering project and programme objectives against a stretching and challenging timeline.  I'm involved in interpreting the Prime Minister's levelling-up strategy, helping with the 'One Home Office vision' and places for growth agenda, delivering new workspace, roles, and technology, at a new campus in Stoke-on-Trent. 
Every day is slightly different, but being empowered by my director, I spend time persuading and influencing people, as part of culture transformation, to make the most out of a new workspace, with new ways of working.  I work alongside cross-government colleagues to capture the requirements of the way the Home Office will work in our new site. We articulate these in a strategy to coordinate the recruitment of new roles and deliver the workspace needed by staff to deliver key Home Office services to customers.   
Tell us about your Civil Service highlights and successes so far
I have demonstrated myself to be a successful collegiate senior leader in all my leadership roles. For the last two years, I've been working within our Clandestine Threat Command. This involves maintaining awareness of international developments and how this may impact migration flows to the UK and delivering properly trained, equipped, and guided clandestine ops response teams. I established and directed a cross-government response to the small boats' crisis. This crisis was a highly politicised and visible government priority and at the heart of the UK's illegal migration strategy.
I loved my role as Course Director & Deputy Head of Change for Border Control & Enforcement in the Turks & Caicos Islands, on loan to the Foreign & Commonwealth Office over five short-term tours. My key responsibilities included being the lead on all operational training and professional standards change projects to strengthen the border and make enforcement more effective in the TCI. This was a critical area of reform, identified following the suspension of ministerial government & the House of Assembly.   
In my first big operational command, I had the strategic lead for Heathrow's 'Safeguarding and Trafficking' teams, driven by Border Force's recognition of its role in supporting wider government strategies, such as ending forced marriage, combating trafficking in people, preventing forced marriages and child exploitation.  I led our SAT mission to stop all known victims of trafficking from being moved across the border at Heathrow and to maximise the opportunity to detect and intercept unknown potential victims of trafficking, and to identify and safeguard children at risk of harm travelling to and from the UK sending a clear message that crime against children will not be tolerated.  I was responsible for all immigration matters, arrivals & operations at Terminals 1&2 with direct responsibility for 300 staff. I ensured the highest levels of security through effective management & adhered to challenging operational targets by working in partnership with key external partners.  I was a proud member of the 2013 International Visitor Leadership Program, a professional exchange program funded by the U.S. Department of State Office of International Visitors in the Bureau of Educational and Cultural Affairs, as part of an international mission to combat criminality behind the trafficking of people.
Tell us a bit about your team/colleagues
My 21-year career progression has thrived in pressurised environments, developing a cosmic understanding of the immigration system, holding a variety of operational and enabling roles in the Home Office and my career has been inspired by the amazing people and single team ethos of my colleagues. One of the things that make the Home Office such a great place to work is the variety and diversity of my colleagues and peers.
In my current role, I rely on delivering through other people and teams. This can be challenging, but it's as important as managing large commands, as I did with 250 people working to secure the border and promote national prosperity at two immigration arrival controls at the world's busiest airport.
What are your hobbies, and how is your work/life balance?
Right now, my work-life balance is the best it's ever been because I'm trusted to work in a way that supports family life while meeting the challenging demands of the department.  I have been working from home during the pandemic, but I wasn't anchored to my device the entire time. Instead, I was encouraged to take out time for well-being so that I could be at my best most of the time. 
I've worked many different patterns over the last 20 odd years but currently do a full-time set of hours over four compressed days. This supports my health well being and child care demands.  I've been flexible with my non-working days over the years to reduce the likelihood of a significant impact on my team. This flexibility has made my line managers, leaders, and departments even more flexible when I've needed last-minute changes to work patterns. 
Outside of work my family are at the forefront of my ambitions to pursue happiness. I make sure to do things that make me happy with the people that make me happy.  I love spending time with my pregnant wife and two little boys, particularly outdoors on walks, hikes or playing rugby. I'm club captain of the Civil Service sports council Barbarians rugby club, a mixed ability social team competing in the Middlesex merit table. I am proud that we have helped raise thousands of pounds in support of charity.
What makes you proud to be a Civil Servant?
I'm a proud member of the Home Office team. Every day, I get to see the hard work of my colleagues keeping people safe and promoting national prosperity within the UK.  I'm particularly proud of the work our staff do to save lives at sea while working hard to secure the UK Border from illegal migration by small boats, combatting the criminality behind human smuggling. 
My colleagues help some of the most vulnerable people in the world to find safety and security in the UK. I believe we have some of the best asylum decision-making and refugee resettlement capability in the world.
What advice can you give someone unsure about the Civil Service?
Wherever you're from and wherever you're going, we need you in the Civil Service! We need your help to keep making the Civil Service one of the best places to live, study and work in the world. We have everything you need to become trained, equipped, and guided through the next chapter of your professional life. We need people with energy and commitment.
Back to National Careers Week Hub
Return to the National Careers Week Hub to find more information about joining the Civil Service.
Back to Hub
Back to Blogs
Return to our list of blogs from apprentices, fast streamers and more.
Back to blogs